Baijnath Temple



One of the most remarkable monuments of the Kangra valley is the temple of Baijnath. Baijnath is situated East of Dharamsala on the main road that leads from the Dhar

a

msala to Mandi. Baijnath is in reality the appellation of the chief temple dedicated to Siva Vaidyanatha ("Lord of Physicians") by which the town itself has become known. The original name of the town was Kiragrama. This we learn from the two extensive Sarada inscriptions incised on stone slabs, which in elegant and florid Sanskrit verse give the history of the foundation of a temple, by two local merchants.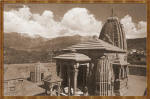 "There is in Trigarata," we read in the inscription, "the pleasent village of Kiragrama, the home of numerous virtues where the river called Binduka, leaping from the lap of the mountain, with glittering wide-waves resembling playing-balls, merrily plays, like a bright maiden in the first bloom of youth. That village is protected by the strong-armed Rajanaka Lakshmana." The river Binduka, so well described by the poet, is the modern Binwa, a tributary of the Beas. The date of the inscription is expressed both in the Saptarishi and in the Saka eras. Cunningham first read the Saka date as 726, corresponding with A.D. 804. The true date, however, must be the Saka year 1126 corresponding with A.D .1204.
The Baijnath temple is oriented due west. It consists of a puri or adytum. 8 feet squre inside and 18 feet outside, surmounted by a spire of the usual conical shape, and of a mandapa or front hall, 20 feet square inside, covered with a low pyramid shaped roof. The adytum, which contains the linga known as Vaidaya natha, is entered through a small anteroom with two pillars in antis. The roof of the mandapa is supported by four massive pillars connected by raised benches which form, as it were, a passage leading to the entrance of the sanctum. The architraves resting on these pillars divide the space of the ceiling into nine compartments, each of which is closed by means of corbelling slabs.
In front of the mandapa rises a stately porch resting on four columns. "The shafts of these pillars," Fergusson remarks "are plain cylinders, of very classical proportions, and the bases also show that they are only slightly removed from classical design. The square plinth, the two toruses, the cavetto or hollow molding between are all classical, but partially hidden by Hindu ornamentation, of great elegance but unlike anything found afterwards."
Set amidst a backdrop of Snow-clad Mountains and lush green Valleys the temple is visible from a far distance. Close flows the Binwa Khund (stream). Considered sacred by local people. The temple surrounding area has been developed into a beautiful lawn and flowerbeds so that the devotees are able to rest a while amidst congenial surrounding.