Himachal > Sujanpur Tira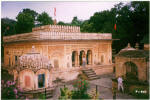 Location:- Sujanpur Tira is only 25 km from Hamirpur town and 120 km from Dharamsala .
The district of Hamirpur having inherited its name from a descendent of a great Katoch lineage Raja Hamir Chand, has relatively been explored little by tourists though it houses some of the finest jewels connected with the rich legacy of the region. The lanes, temples, forts and palaces of Naduan and Sujanpur Tira still echo with stories about Maharaja Sansar Chand Katoch, one of the greatest Katoch rulers, who had sought refuge at these places while fighting his adversaries. In 1758, overlooking the settlement of Sujanpur, Abhaya Chand, a Katoch ruler, built a fortified palace top of a hill. It acquired the name Tira and with time this ancient town on the bank of river Beas began to be called Sujanpur- Tira.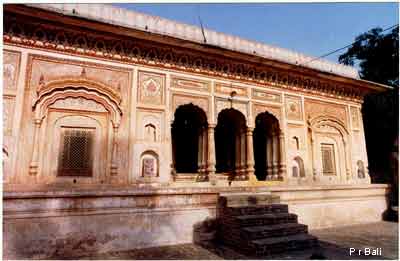 All Images Narbadeshwar Temple Sujanpur Tira
Raja Sansar Chand Katoch converted Sujanpur- Tira into his third capital. Being a great patron of art and culture, soon many famous artists flocked to his court. Till his death in 1824, Sujanpur- Tira and nearby Alampur were homes for the Katoch ruler where he indulged with arts and artists and has gone down in history as a true parton.There is the Barahdari hall within the fort of Sujanpur- Tira, which had twelve chambers for other rajas. Here, Sansar Chand Katoch used to hold his court. On a nearby hill at Tira is a temple dedicated to Chamunda Devi that still attracts a large number of devotees. At the southern end is the temple of Gauri Shanker that houses life-size statues in 'ashtadhatu' of Lord Shiva and his consort Parvati.Every 'Holi', colours were added to the waters of a huge tank within the fort, which used to be celebrated with enthusiasm. The festival is still popular in the region.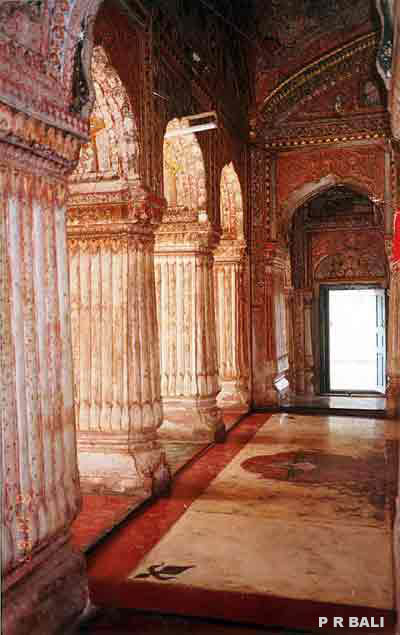 The devastating earthquake of 1905 in Kangra region had left a broken piece of history in the remnants of this fort and its great palace at Sujanpur- Tira. Some of the temples of Sujanpur may have been built over again but the Narbadeshwar temple survived the seismic shocks. The walls of this temple have given refuge to some of the finest frescoes of the famous Pahari School of painting.Archaeological Survey of India is helping to conserve its rich treasure.
This temple was got built by Prasanni Devi, the Maharani of Sansar Chand Katoch in 1802 AD and is dedicated to Lord Shiva. Built in an open yard 'Panchayatan style', the darbar artists have put their heart and soul to paint those exquisite frescoes on its walls and the ceiling leaving not an inch unadorned. Scenes from the great Indian epics Ramayana and Mahabharata are depicted in the frescoes.In one corner of the 'chowgan' ground, there is the Murli Manohar temple built by the Katoch ruler in memory of his mother in 1785 AD. The temple in 'Shir Shaili' style is dedicated to Lord Krishna. Here the wall frescoes have Krishna, Radha and Gopis as their motifs. Narmades'vara Temple Rulers for training their soldiers used the 'chowgan'.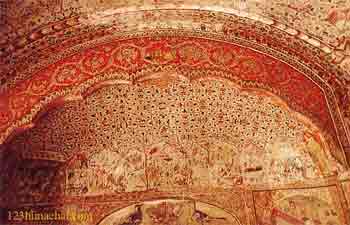 However, the big ground these days is used for holding cultural, social and political functions.Only 10 km from the temple town of Jwalamukhi and 28 km from Hamirpur on the left bank of river Beas is Nadaun. This town came into prominence when the Kangra rulers shifted their capital here after they lost Kangra fort to invading armies. The scenic beauty of Nadaun in the vicinity is legendary with a saying recording it as 'he who goes to Nadaun, why should he return?'Ruins of the old palace here tell tales of the better days it has seen. Kangra miniature paintings are still Housed at Amtar palace. In this land dominated by temples of Devi's, at Naduan there is one dedicated to Lord Shiva.
The turbulence of the Beas having calmed near Nadaun provides excellent river rafting sites. And with the king of fishes 'the Mahaseer' among its waters excites all anglers.It was in these surroundings the luster faded Katoch Royalty after having ruled Kangra for about 2000 years spent its last days before the British took control. Trapped between the Sikh armies of Maharaja Ranjit Singh on one side and Gurkhas armies under Amar Singh Thapa on the other. The great Katoch Empire had shrunk to Nadaun and Sujanpur- Tira. Fort of Sujanpur- Tira
Raja Sansar Chand Katoch, unable to recover the famed Kangra fort, may have died a broken man but even in faded glory he had kept alive the famous school of Pahari paintings and is still remembered as its greatest patron. Many of these miniature paintings representative of oriental character adorn the galleries of museums world over and have an emotive quality that appeal even today. The broken forts of Sujanpur- Tira and Nadaun and the shine of the frescoes on the walls of its temples and palaces with time may dimmed a little, the townships may have lost their importance but these places wait their turn to be discovered again. Article by Sushma Courtesy Himachal Tourism (
[KULLU] [KANGRA ] [CHAMBA] [DHARAMSHALA] [PALAMPUR] [MANDI] [TREKKING]
[ECO_TOURISM] [LESSER KNOW HIMACHAL] [TIBETANWORLD] [KINNAUR]