India- Himachal - Dharamsala - Mcleodganj
Yungchen Lhamo is a Tibetan singer living in exile in New York city.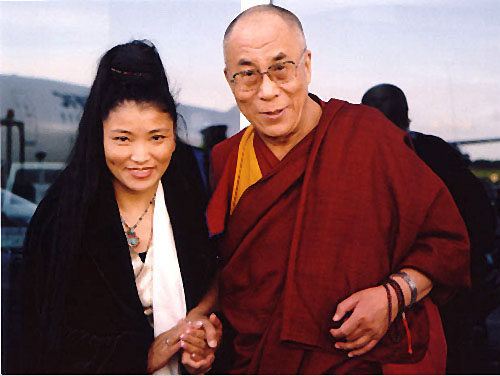 Yungchen Lhamo's name means "Goddess of Song," a name given her by a holy man soon after she was born near Lhasa. She left Tibet in 1989 at age 25, via the perilous navigation of the Himalayas in order to escape the oppressive Chinese regime governing Tibet. She made a pilgrimage to Dharamsala, to receive the blessings of the Dalai Lama, where he lives in exile. She was inspired to reach out to the world through her music, to share her culture and educate people about Tibet. She moved to Australia in 1993.
Since fleeing Tibet on foot in 1989, Yungchen Lhamo has emerged as the leading Tibetan vocalist on the world stage. From the quays of Sydney, Australia to the spotlight of Carnegie Hall, her a cappella performances have enchanted audiences in more than 70 countries since she began touring professionally in 1994.
Born in a labor camp outside Lhasa in Chinese-occupied Tibet, Yungchen began working in a carpet-weaving factory at the age of five. Tibetan singing was one of many customs banned by the Cultural Revolution, which began violently in Tibet in 1959. It was in this inhospitable setting that her grandmother taught Yungchen the devotional singing she has shared with audiences around the world.
At the end of a dangerous 1,000-mile escape across the Himalayas, Yungchen arrived in India, where she visited numerous Tibetan refugee camps and had the opportunity to meet the spiritual leader of the Tibetan people, His Holiness the Dalai Lama in Dharamsala. Recognizing the ability in Yungchen's performances, he encouraged her to go and share with western people the richness of Tibetan culture through the beauty of her voice.
"When I left Tibet, I lost everything," Yungchen recalls. "The one thing I didn't lose was my voice. And this I carried with me to the West."
In concert, Yungchen performs with almost no music accompaniment, so that the focus of the audience's attention fixes on the pliant tonal qualities of her inimitable voice. Dressed in cream-colored Tibetan silk, with orange cuffs, turquoise jewelry and hair cascading below her waist, Yungchen casts a regal presence onstage that one journalist described as "more like a head of state than [a] musician on her first trip to America."
Onstage, Yungchen's eyes search deep into the audience, as if recalling some distant melody, with notes emanating from a powerful center to the far reaches of the venue in what reviewers have aptly termed "a voice from the skies." Her songs explore traditional Tibetan themes of spiritual pilgrimage, soul-searching and a delight in the natural environment. For example, lines from the song "Par Panee Dawa Shar" from the album Tibet, Tibet intone:
There where the moon rises
Reminds me of my lama's face
Remembering your kindness
I make offerings of song and dance
Since being signed to Peter Gabriel's Real World Records label, Yungchen has released two critically-acclaimed albums, Tibet, Tibet and Coming Home (produced by Hector Zazou). Her music has appeared on Natalie Merchant's platinum-selling Ophelia, the compilation disc Lilith Fair: A Celebration of Women in Music, on the soundtrack to the Hollywood film Seven Years in Tibet, and in a handful of documentaries. Yungchen was one of the Real World artists featured in a recent one-hour music television special by National Geographic called Songs Under a Big Sky. The show was produced and directed by Michael Coulson, who also directed Yungchen's first music video, "Happiness Is."
Yungchen has also performed in support of many Tibet organizations, including Tibet House New York, The Milarepa Fund, Students For a Free Tibet, Tibet Relief Fund, Australian Tibet Council, The Dalai Lama Trust New Zealand, AIPLP, the Pema Tsal School in India and for such aid groups as Amnesty International, Walk Against Want, Reebok Human Rights Awards, IUCN and Survival International. At such events, she has performed alongside a variety of luminaries, including Philip Glass, Annie Lennox, Michael Stipe and Sheryl Crow.
Yungchen is currently at work on her much-awaited fourth album, in what promises to be the next chapter in an already exquisite musical career.
Yungchen Lhamo now lives and makes music in New York City.
SHIMLA] [KULLU] [KANGRA ] [CHAMBA] [DHARAMSHALA] [PALAMPUR] [MANDI] [TREKKING][ECO_TOURISM]
[FAIRS & FESTIVALS] [LESSER KNOW HIMACHAL] [TIBETANWORLD] [COMMUNITY] [KINNAUR] [GUEST BOOK
NEW-> DHAULADHAR PHOTO GALLERY