Lakes Of Dhauldhar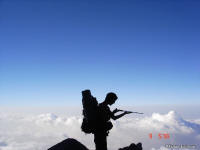 Top of Inderhara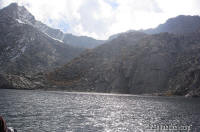 Nag Dal lake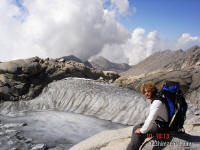 Origin of Gaj river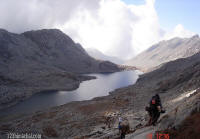 Lam Dal lake

Lamdal Satelite image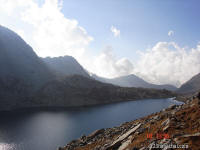 Lam Dal lake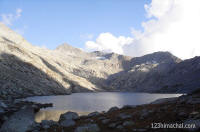 Kali Dal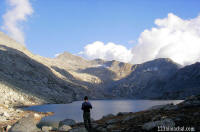 Kali Dal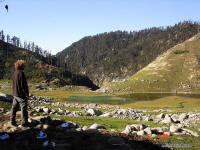 Kareri lake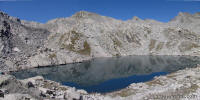 Lam Dal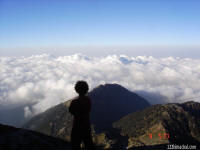 View from Inderhara pass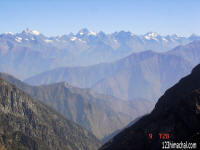 First view of Pir Panjal range from Inderhara Pass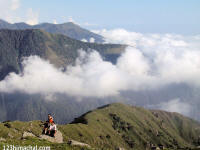 Triund
Dhauldhar The Outer Himalaya Text by Shiv Ram Saini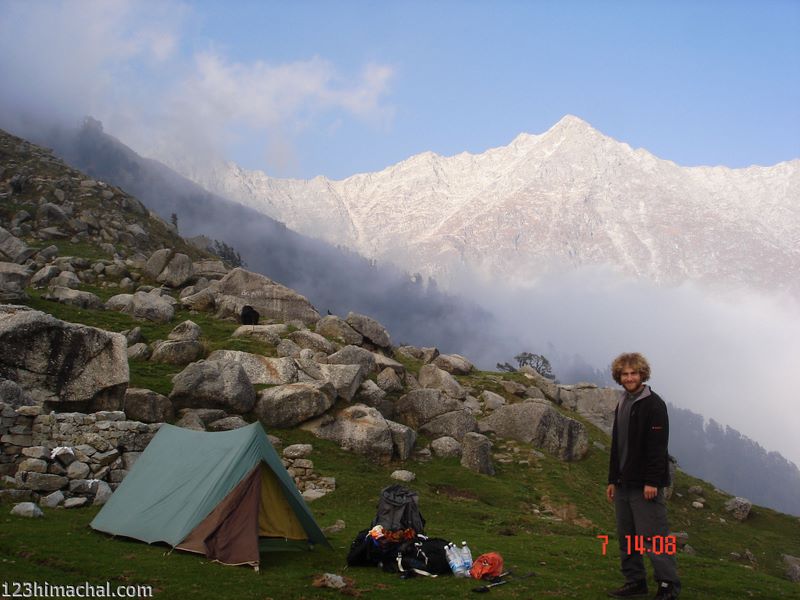 The crest of Dhauladhar is covered by a vast expanse of snow and perhaps this mountain range is the near snow line 'area in the whole of Himalayas which is easily accessible from the plains. The Dhaulaldhar has rich fauna & flora and also features of geological interest. All the way from Dalhousie to the Bara Bhangal ridge, the Dhauladhar has more than 30 passes at an average height of 3500 metres to above 5000 metres, which afford an easy entrance to the Ravi valley and to the central Himalayas. This mighty range has vast trekking, mountaineering and skiing potential and is known for its unspoiled, unexplored, unfrequented and improvised treks. Some of the peaks in this region have been identified and scaled by Britons since 1924. These peaks are the
Mun (4610 metres), to the north of Dharamshala,

Kaitash (5655 metres), in the Manimahesh region,

Christmas (4581 metres)

Toral (4686 metres) above Khanyiara,

Gaurijunda or the Dhauladhar matterhorn near Talang Pass (4916 metres),

Lantern (5100 metres) near 'thamsar Pass,

Slab (4496 me.tres) near Indrahara Pass,

Dromedary (4553 metres) between Bhimghasutri and Gag Pass

Riflehorn (4400 metres) above Nag Chhatri Dal.
In addition to this, the region has a few small and unnamed virgin peaks. They offer an opportunity for amateur mountaineers, experienced trekkers and beginners to visit the unfrequented areas and open new vistas for adventure. The Dhauladhar deserves a special mention for its high altitude glacial lakes which have mythical backgrounds and are considered extremely sacred by local residents, who make pilgrimage to these lakes during the monsoon and post monsoon season. These lakes are considered to be the abode of, Lord Shiva. They are located in the midst of paradisal grandeur. The most prominent among them in the Dhauladhar region are the Lam Dal and the Nag Dal. Lam Dal is at an elevation of 3900 metres and approachable from Minkiani Pass (4250 metres}. This lake is the largest and the deepest in the area with a circumference of about 2.5 Km.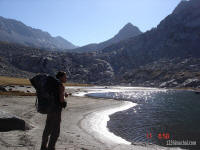 Enroute to Lam Dal and Nag-Chhatri Dal are seven small & big lakes; hence it is also called the area of the seven lakes. Kalikund, a well shaped lake, is about 150 metres below Lam Dal. It is worshipped by devotees on account of its religious background. Chanderkup (Moon lake) 4100 metres is a beautiful lake with ice blocks floating in it. Nag-Chhatri Dal (King Cobra Lake} near the lndrahara pass, is related to the Bhagsu Nag waters and is situated on the other side of the Dhauladhar at an elevation of 4200 metres. The devotees take a dip in this lake during the Manimahesh yatra towards the end of August and early September. Almost every pass here' has a lake below it. Nag Chhatri Dal, and a small glacial lake to the left of Thamsar pass are prominent among these.
While the watershed of the Dhauladhar towards the Kangra valley flows into the Beas, towards the Chamba it forms the drainage to the Ravi. The plains of Kangra afford magnificent views of the Dhauladhar. As one approaches from this side one notices abrupt elevation as compared to the Ravi valley from where the access to it is moderate and gradual. the scenery from any of the passes of the Dhauladhar towards Pir Panjal and the Greater Himalayas is most captivating and spectacular allowing an unobstructed view of the mountain ranges and deep valleys with their far-flung, snow-clad, dome-like enchanting peaks.
"Treks and Passes of Dhauldhar & Pir Panjal"is the out come of personal trekking experience of the author who is incharge of Regional Mountaineering centre at Dharamsala.