Lord Rama

Rama is born in the city of Ayodhya, which is the capital of the ancient kingdom of Kosala. The city and the area are located in the central region of the modern state of Uttar Pradesh in India.
King Dasaratha performs a putrakami yajna, a sacrifice to obtain offspring by pleasing the Gods. He gives the sacred, sacrificial nectar to his three wives according to their seniority: Kousalya, Sumitra and Kaikeyi.
Rama is born the eldest son of Kousalya and Dasaratha. He is the prince of the Suryavanshi (Sun Dynasty) House of Ikshvaku, descendant of great monarchs like Ikshvaku, Raghu and Bhagiratha.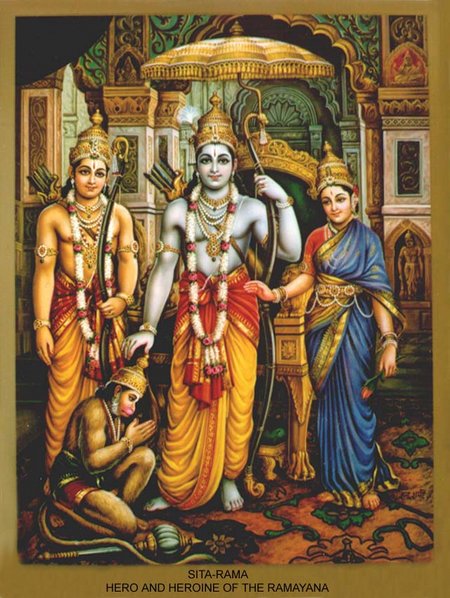 He is the eldest brother to Bharata, son of Kaikeyi, and the twin sons of Sumitra, Lakshmana and Shatrughna. The Ramayana describes their relationship as intensely loving and devotional, although Rama and Lakshmana share a special, inseparable bond, while Bharata is especially close to Shatrughna.

Rama and his brothers are trained by the Guru Vasishta in the Vedas, religion, philosophy and the sciences. Guru Vishwamitra is the preceptor of Rama and Lakshmana in the advanced military arts and advanced religion.
The Avatara
Upon his birth, only a few highly learned and experienced sages know of his true identity as the Avatara of the Supreme Lord Vishnu. Amongst them are Vasishta and Vishwamitra. Neither his parents, nor his brothers or any of the people of Kosala know who his true identity is. Rama is born with a blueish skin color and effulgence, which denotes divinity.

Throughout the course of his life, Rama does not himself know of his true origin and mission. Despite his exceptional prowess as a warrior, he does not realize his true strength and mission in life.

Only after he completes his primary mission of slaying Ravana, the evil emperor of Lanka, is he confronted by all the Gods and celestial sages, headed by Brahma and including Indra and Shiva, who explain his true identity.

His brother and close companion Lakshmana is considered an avatar of Sesha, the divine snake on which Vishnu lies on, which makes him have a very strong spiritual bond with Rama.