Sutlej is the longest of the five rivers of Punjab that flow through northern India, with its source in Tibet near Mount Kailash to Punjab. It receives the Beas River in the state of Punjab, India and continues into Pakistan to join Chenab river to form Panjnad river which furthur joins Indus river at Mithankot. The Sutlej was known as Shatadru or Sutudri to Indians in Vedic period and Zaradros or Hesidros to the Greeks.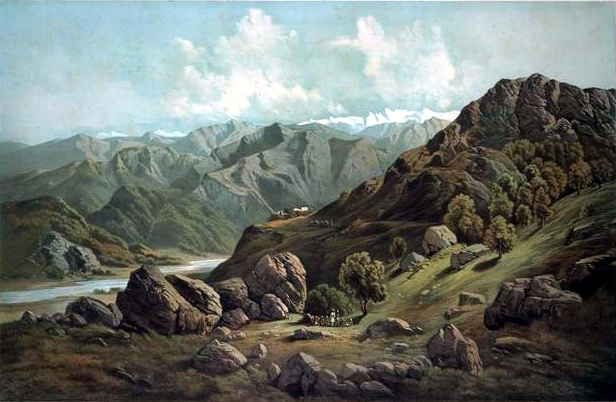 Sutlej Valley from Rampur 1857
This image is taken from the book "Results of a scientific mission to India and high Asia - Atlas Part II." By Hermann, Albert and Robert von Schlagintweit-Sakünlünski, on an expediton made between the years 1854 and 1867, and published in 1861.
The waters of the river are allocated to India under the Indus Water Treaty between India and Pakistan. At present, most of its water is diverted to irrigation canals and used up in India. The Bhakra-Nangal dam is a huge multipurpose dam on the river.

There is substantial evidence to indicate that Sutlej was once an important tributary of the Sarasvati river, instead of the Indus river. Due to some natural tectonic convulsion of earth, Sutlej changed its course to join the Beas river. This resulted in drying of Saraswati, desertification of Cholistan and Sindh, and abandonment of numerous ancient human settlements along the Saraswati river.