Early Life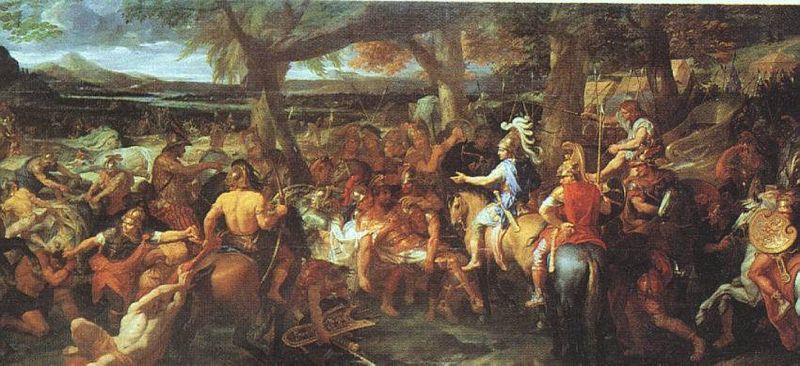 Alexander the Great was the son of King Philip II of Macedon and of his fourth wife, Epirote princess Olympias. According to Plutarch (Alexander 3.1,3), Olympias was impregnated not by Philip, who was afraid of her, and her affinity for sleeping in the company of snakes, but by Zeus Ammon. Plutarch (Alexander 2.2-3) relates that both Philip and Olympias dreamt of their son's future birth. Olympias dreamed of a loud burst of thunder and of lightning striking her womb. In Philip's dream, he sealed her womb with the seal of the lion. Alarmed by this, he consulted the seer Aristander of Telmessus, who determined that his wife was pregnant and that the child would have the character of a lion.

Aristotle was Alexander's tutor; he gave Alexander a thorough training in rhetoric and literature and stimulated his interest in science, medicine, and philosophy. After his visit to the Oracle of Ammon at Siwa, according to five historians of antiquity (Arrian, Curtius, Diodorus, Justin, and Plutarch), rumors spread that the Oracle had revealed Alexander's father to be Zeus, rather than Philip. According to Plutarch (Alexander 2.1), his father descended from Heracles through Caranus and his mother descended from Aeacus through Neoptolemus and Achilles. Aristotle gave him a copy of the Iliad and a knife that he always hid under his pillow at night. Invasion of India

Coin commemorating Alexander's campaigns in India, struck in Babylon around 323 BC.
Obv: Alexander standing, being crowned by Nike, fully armed and holding Zeus' thunderbolt.
Rev: Greek rider, possibly Alexander, attacking an Indian battle-elephant, possibly during the battle against Porus.With the death of Spitamenes and his marriage to Roxana (Roshanak in Bactrian) to cement his relations with his new Central Asian satrapies, in 326 BC Alexander was finally free to turn his attention to India. Alexander invited all the chieftains of the former satrapy of Gandhara to come to him and submit to his authority. Ambhi, ruler of Taxila, whose kingdom extended from the Indus to the Hydaspes (Jhelum), complied. But the chieftains of some hilly clans including the Aspasios and Assakenois sections of the Kambojas (classical names), known in Indian texts as Ashvayanas and Ashvakayanas (names referring to their equestrian nature) refused to submit.

Alexander personally took command of the shield-bearing guards, foot-companions, archers, Agrianians and horse-javelin-men and led them against the Kamboja clans -- the Aspasios of Kunar/Alishang valleys, the Guraeans of the Guraeus (Panjkora) valley, and the Assakenois of the Swat and Buner valleys. "They were brave people and it was hard work for Alexander to take their strongholds, of which Massaga and Aornus need special mention" (Alexander the Great, 2003, p 123, I. Worthington). A fierce contest ensued with the Aspasios in which Alexander himself was wounded in the shoulder by a dart but eventually the Aspasios lost the fight; 40,000 of them were enslaved. The Assakenois faced Alexander with an army of 30,000 cavalry, 38,000 infantry and 30 elephants (Curtius). They had fought bravely and offered stubborn resistence to the invader in many of their strongholds like cities of Ora, Bazira and Massaga. The fort of Massaga could only be reduced after several days of bloody fighting in which Alexander himself was wounded seriously in the ankle. When the Chieftain of Massaga fell in the battle, the supreme command of the army went to his old mother Cleophis (q.v.) who also stood determined to defend her motherland to the last extremity. The example of Cleophis assuming the supreme command of the military also brought the entire women of the locality into the fighting (Ancient India, 1971, p 99, Dr R. C. Majumdar; History and Culture of Indian People, The Age of Imperial Unity, Foreign Invasion, p 46, Dr R. K Mukerjee). Alexander could only reduce Massaga by resorting to political strategem and actions of betrayal. According to Curtius: "Not only did Alexander slaughter the entire population of Massaga, but also did he reduce its buildings to rubbles". This statement clearly shows that Alexander had suffered severe losses at the hands of the Assakenois so that he must have lost his poise and given vent to his wrath on the buildings of Massaga.

The Assakenois were a brave people and fierce fighters but lost the battle because of their over-confidence and lack of cunning & political-sagacity (S Kirpal Singh).

A similar man-slaughter then followed at Ora, another stronghold of the Assakenois.

In the aftermath of general slaughter and arson committed by Alexander at Massaga and Ora, numerous Assakenian people fled to a high fortress called Aornos. Alexander followed them close behind their heels and captured the strategic hill-fort but only after fourth day of bloody fight. The story of Massaga was repeated at Aornos and a similar carnage on the tribal-people followed here too.

Writing on Alexander's campaign against the Assakenois, Victor Hanson comments: "After promising the surrounded Assacenis their lives upon capitulation, he executed all their soldiers who had surrendered. Their strongholds at Ora and Aornus were also similarly stormed. Garrisons were probably all slaughtered" (See: Carnage and Culture: Landmark Battles in the Rise to Western Power, 2002, p 86, Victor Hanson).

Sisikottos who had helped Alexander in this compaign was made the governor of Aornos.

After reducing Aornos, Alexander crossed the Indus and fought and won an epic battle against Porus, a ruler of a region in the Punjab in the Battle of Hydaspes in (326 BC). After the victory, Alexander was greatly impressed by Porus for his bravery in battle, therefore he made an alliance with Porus and appointed him as satrap of his own kingdom and even added some land he did not own before. Alexander then named one of the two new cities that he founded, Bucephala, in honor of his noble mount who had brought him to India. Alexander continued on to conquer all the headwaters of the Indus River.

East of Porus' kingdom, near the Ganges River, was the powerful empire of Magadha ruled by the Nanda dynasty. Fearing the prospects of facing another powerful Indian army and exhausted by years of campaigning, his army mutinied at the Hyphasis (modern Beas), refusing to march further east. Alexander, after the meeting with his officer, Coenus, was convinced that it was better to return. Alexander was forced to turn south, conquering his way down the Indus to the Indian Ocean. He sent much of his army to Carmania (modern southern Iran) with his general Craterus, and commissioned a fleet to explore the Persian Gulf shore under his admiral Nearchus, while he led the rest of his forces back to Persia by the southern route through the Gedrosia (present day Makran in southern Pakistan).

After India

Alexander and Porus by Charles Le Brun, 1673.Discovering that many of his satraps and military governors had misbehaved in his absence, Alexander executed a number of them as examples on his way to Susa. As a gesture of thanks, he paid off the debts of his soldiers, and announced that he would send those over-aged and disabled veterans back to Macedonia under Craterus, but his troops misunderstood his intention and mutinied at the town of Opis, refusing to be sent away and bitterly criticizing his adoption of Persian customs and dress and the introduction of Persian officers and soldiers into Macedonian units. Alexander executed the ringleaders of the mutiny, but forgave the rank and file. In an attempt to craft a lasting harmony between his Macedonian and Persian subjects, he held a mass marriage of his senior officers to Persian and other noblewomen at Susa, but few of those marriages seem to have lasted much beyond a year.

His attempts to merge Persian culture with his Greek soldiers also included training a regiment of Persian boys in the ways of Macedonians. It is not certain that Alexander adopted the Persian royal title of shahanshah ("great king" or "king of kings"). However, most historians believe that he did.

Alexander let it be known that he intended to launch a campaign against the tribes of Arabia. After they were subjugated, it was assumed that Alexander would turn westwards and attack Carthage and Italy.

After traveling to Ecbatana to retrieve the bulk of the Persian treasure, his closest friend (and possible lover) Hephaestion died of an illness. Alexander was distraught and on his return to Babylon, he fell ill and died.